Football legend Lionel Messi has refused to celebrate 200 million followers on Instagram. Instead, he preferred to draw attention to the fight against online abuse and bullying while studying the impressive landmark.
"I see I've just reached 200 million people who follow me on this network," Messi began in a message to the world.
"However, after what happens today, I'm not going to take it as a reason to celebrate.
"Of course, I appreciate all the love and support I always get from you, but I think it's time to give meaning to all of the people behind each profile," he added.
"We recognize that behind every report there is a flesh and bone person who laughs, cries, enjoys and suffers. People with feelings.
"Let's speak out to stop social media abuse online," said Messi.
"It doesn't matter if we are anonymous, celebrities, athletes, referees or fans of the game. Nobody deserves to be abused or insulted."
"We have seen abuse get worse on every network with no one doing anything to prevent it."
"We must strongly condemn these hostile attitudes and urge the companies that manage the networks to take urgent action against these behaviors," said Messi, signing the post, which has been and counts as "liked" by more than 4.5 million users.
Messi's message comes that a multitude of sports organizations across the UK are boycotting social media platforms this weekend to urge companies like Twitter, Facebook and Instagram to do more to tackle racial abuse.
Also on rt.com
"Can't go on": English football announces "social media blackout" to fight online racism
On Friday, Ballon d'Or owner Messi made another social upload that also went viral and has been viewed nearly 4 million times.
In celebration of World Immunization Week, the Argentine announced that he would be coming to UNICEF as a vaccine to "save the lives of 3 million children around the world each year and protect them from life-threatening and highly infectious diseases".
"#VaccinesWork," he signed with a hashtag that accompanied an official video.
On the day job, Messi's former team-mate Daniel Alves has urged his favorite partner on the right flank not to leave Barcelona in the summer.
"I have told Messi several times: he was born a Barcelona player and Barcelona as his club," Alves said in an interview with the Guardian.
"He once told me to stay in Barcelona because there wasn't a better place.
"'Where will you be happier?' he asked me. So I stayed, "revealed Alves.
"Now I've reminded him of that conversation and that it's a good friend [him] advised me that Barcelona is the best place ever. "
Dani Alves says he reminded Lionel Messi that he was born to play for Barcelona 💙❤️ pic.twitter.com/Y7YhEM1z9e
– Goal (@goal) May 1, 2021
"I haven't had a reply from him yet," Alves admitted.
"But when you leave Barcelona you realize how good it is.
"All the players, and I mean everyone who left Barcelona, ​​have apologized. Everyone is sorry they left," he said.
"When I left the club [to Juventus in 2016]I just wanted to show my worth to come back. But unfortunately the same people who were against me when I was at the club stayed there, "he said as he dug up the resigned ex-president Josep Bartomeu.
"I showed that I could play for Barcelona for 10 more years. I tried to go back. I played to go back to Barcelona but they didn't want me anymore," said Alves.
Also on rt.com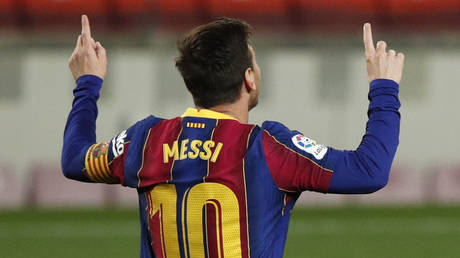 Barcelona are preparing a 3-year deal to entice Messi to stay – but the club legend MUST cut a salary cut on a $ 90m salary